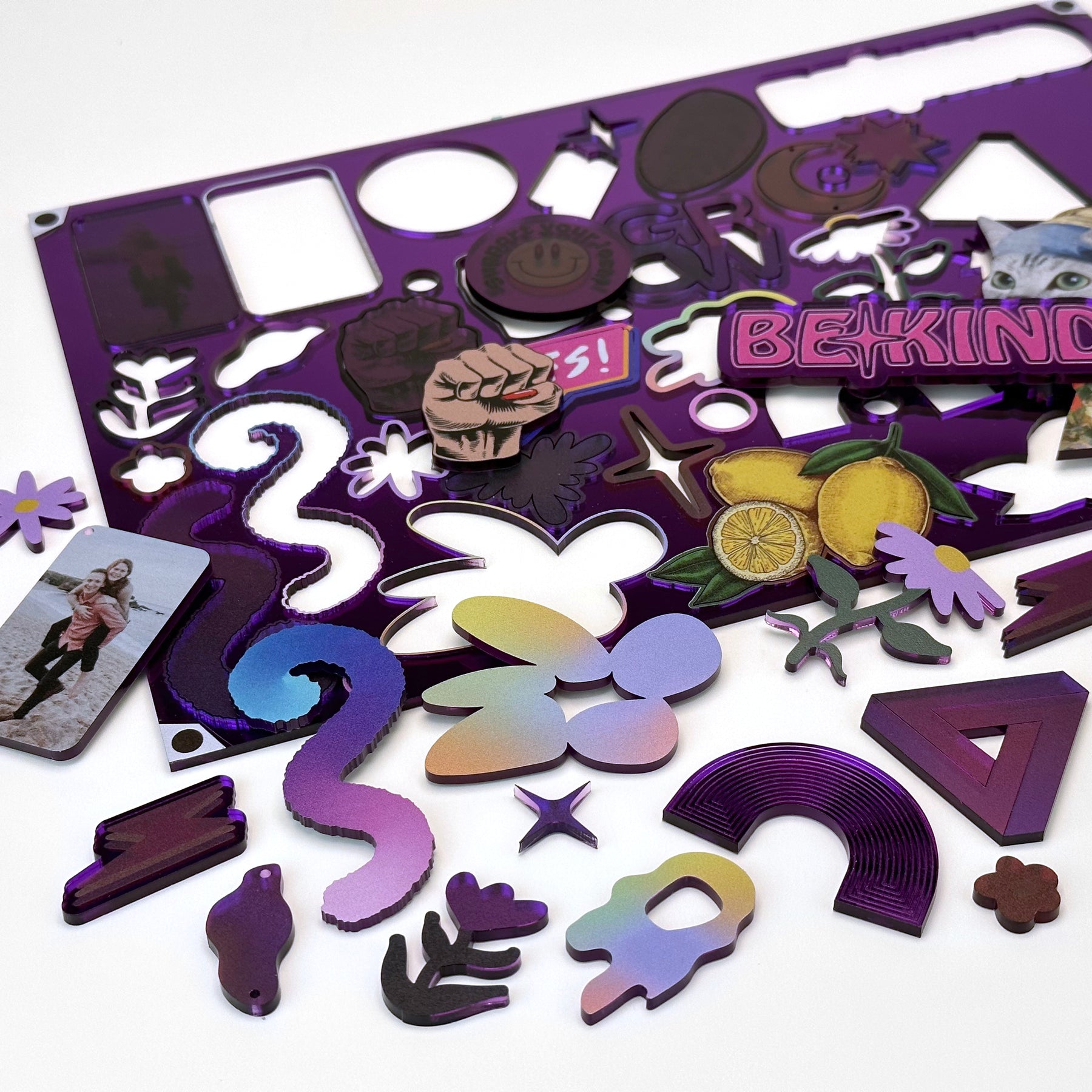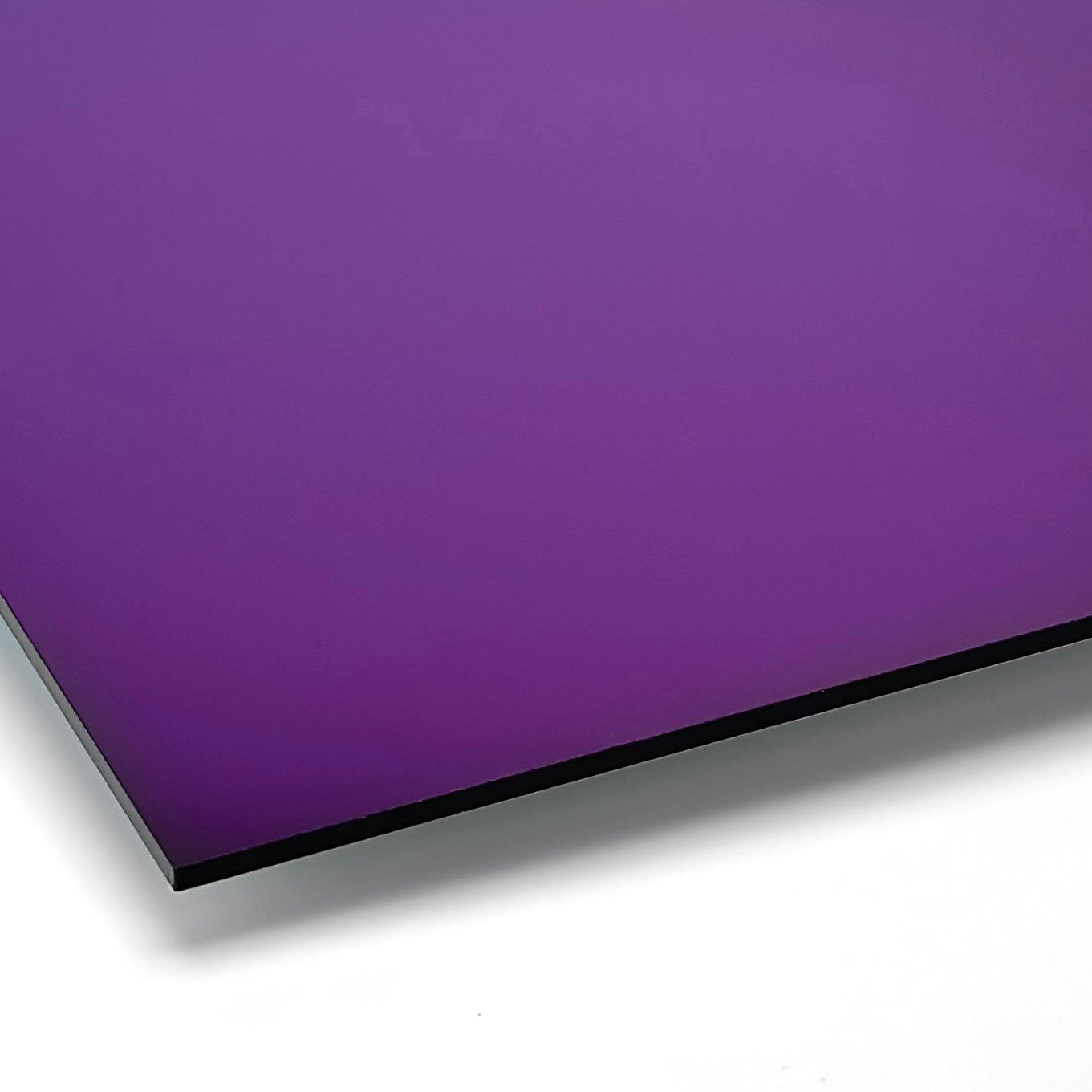 Mirror Purple Acrylic with laser cutting & printing - 600x400mm
3mm thick acrylic sheet with your own laser cutting & colour printing design on one side. Add white ink layer for even more vibrant printing colours.
All our Acrylic plastic sheets (PMMA) are manufactured in England or Germany to ensure high quality material perfect for laser cutting & printing.

When laser cutting the Acrylic edge is the same colour as the surface colour with a glossy clean look. Please note when laser cutting we always add a protective tape on both sides to ensure it does not become scratched in manufacturing.
Acylic has a thicknes tolerance of +/-0.5mm ( +/- 1mm for Glitter & Flake acrylic) Very small details can be creted with Acrylic but due to the properties of Acrylic it can be brittle in small parts.
Laser cutting has an accuracy of 0.05mm. The laser beam has a kerf thickness of 0.3mm. This means the laser will always accuratly follow centre of the laser cutting path in your design removing 0.15mm from each side of the line.

Scribing our Acrylic will create a line approximatly 0.3mm thick, that appears darker but only due to how light refects off the surface.
Engraving our Acrylic will normally create a slightly lighter colour compared to the surface colour approximetly 0.2mm deep. Please do refer to photos on our site showing the engraving colour on birch plywood. *note in mirror acrylics the engraving is produced on the backside, we will mirror your design so it still looks correctly when looking at the mirror sheet.

Printing on Acrylic has very variable colour repoduction accuracy based on the colour of the acrylic choosen. For accurate or brighter, more vivid colours we advise adding white ink layer under the colour. The printing surface is Uv resistant and resistant to light scratching. Acrylic is only avaliable with single sided printing.
Printing & laser cutting alignment has an accuracy of 0.5mm, we highly advise that all printed designs have a bleed of 2mm to ensure that the print covers all of the surface of the cut parts. Please follow the file setup instructions within the file templates very carefully.
Secure Payment Stripe. We accept all majour Debit & Credit cards, Apple & Google pay.
Orders are dispatched within 5 working days. Delivery times vary depending on location, from 1-3 days.

You will receive tracking information when your order has been sent out. We use Posti for all orders within Finland or UPS for all orders within EU.

Please contact us if you have specific payment or delivery requirements, we are happy to help.
General
Due to plywood being made of a natural material that has varying density it is possible some edges of the laser cut parts are darker than normal, have small hollow areas or may have small chips where the laser hasn't cut all the way through. Acrylic plastic has a thickness tolerance of +/- 0.5mm or +/- 1mm in glitter & flake acrylic, keep this in mind when designing items that are meant to slot together or are to be used in special tolerance applications.
Our production quality standard is -5%, for example if a sheet has 80 items within it, you may receive up to 4 items that may have small defects. (Normally a client receives 100% perfect items in the majority of orders).
All products and materials are designed for interior use, they should not come in contact with chemicals or solvents as this may effect the material or printed artwork.
Produced items will arrive with a protective cover attached. This must be removed as soon as possible to not damage the material surface.
Artwork & Printing
We do not edit or modify your artwork and / or printing colours. We advise clients to always use RGB colour settings in their artwork for best results. 
Wood and coloured acrylics which are not white will effect the way your printed design will appear. Normally this will make colours look slightly darker, especially compared to how they may look on a computer screen.
We advise that if you are unsure of how your artwork will look printed on your chosen material, you should request a sample before making your order. We do not edit or modify artwork before printing.
Our printing inks have achieved a sustainability GREEN GUARD Gold Certification. Low emissions for sensitive indoor applications such as schools, hospitals and hotels. We only use the highest quality certified sustainable sourced wood with M1 class low VOC emission. Our products do not have any food safety and/or child safety certificates. They should not be used with direct contact to food.
We have an alignment accuracy of +/- 0.5mm, we strongly advise that for any items that have a print extending to the edge of the product, a bleed no less than 1mm is added to the artwork.
Returns & Refunds
All products are produced accurately according to the artwork supplied. If there are errors in the design that was given to us, the product is considered to be successfully produced, It is the responsibility of the designer to ensure the artwork is correct before making the order.
If you receive items that do not match your artwork, or have any defects in the production over the 5% quality tolerance. You must contact us within 7 days of receiving the order.
If you receive damaged package please contact us right away, with photos of the damage to the product and packaging.
Under EU's consumer rights law, custom-made products cannot be returned for refund as the items cannot be reused or resold. If the product has been accurately produced to the artwork given and there are no production defects. The items cannot be returned.
If it is found that there are more than 5% items with defects within a sheet, then the consumer can choose two possible refund options:
You can return the full sheet within 14 days and we will remake and send the new items free of charge. (We will give a credit note for your return postage cost).

We can give a discount on your next order or give a credit note, based on the % amount of defected items.
You must contact us within 7 days of recieving the order.
You must return the items within 14 days of recieving the order.
When making an order on this website you are choosing to accept these terms & conditions.